BASTIEN LECOUFFE DEHARME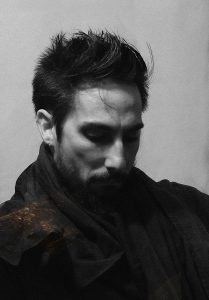 Bastien Lecouffe Deharme was born on the shores of Brittany, in France, at the beginning of the eighties.
Bastien creates dark and symbolic pictures, blending a contrast of beauty and decadence. His artwork evolves at the crossroad of modern and ancient myths and legends, forgotten tales and tragedies.
Starting his career as an illustrator in France circa 2006 with the notorious publishing companies Gallimard and Pocket, his sci-fi and fantasy artworks have been seen on covers for Philip K.Dick, Franck Herbert, H.P.Lovecraft, Tanith Lee, Clive Barker, Chuck Palahniuk and many others.
He moved to the United State in 2010 where he focused on the writing of his graphic novel Memories of Retrocity. The book was published in 2011 and was nominated for the "Grand Prix de l'Imaginaire".
Focusing his career on the US market, Bastien works today for clients such as Wizards of the Coast and Magic: the Gathering, Adobe, DAW Books, Random House, Tor Books, National Geographic, Riot Games, Penguin, HarperCollins, Orbit Books, Del Rey, SFX Magazine, Imagine FX, etc.
Bastien's artwork was awarded Silver and Gold awards many years in a row in the book Infected by Art, and was chosen to be the cover of Spectrum Fantastic Art book. In 2018, he was nominated for the Hugo award in the "Best Artist" category.
At the core of Bastien's creative process and inspiration lay the hours spent during the long roleplaying games nights of his early days (nights). Building worlds through images and stories was always at the center of Bastien's activities, and GODS is born from that fire.
JULIEN BLONDEL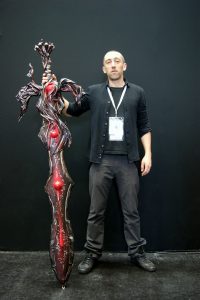 Writer, game designer and scriptwriter, Julien Blondel works in the gaming and publishing industry since 1994. From his beginnings with Casus Belli, the first French roleplaying game magazine, this former DJ and radio host has quickly become one of the most prominent figures of the French RPG scene.
Well known by the players for his work as an author and editor on Prophecy, Vermine or The Métabarons, adapted from Alexandro Jodorowsky's masterpiece, Julien has worked on hundreds of supplements, scenarios and translations for various lines: Polaris, In Nomine Satanis / Magna Veritas, Shaan, Dark Earth, Nephilim, Unknown Armies or Legend of the Five Rings.
After collaborating as an author and game designer for the video game industry, and writing for magazines such as Metal Hurlant, Les Inrockuptibles, Casus Belli, Lotus Noir or Backstab, he created Studio 1D to develop serious games and innovation award winner projects for L'Oréal, Danone, Allianz or JP Morgan.
Creator of universes and storyteller above all, he wrote his first comics script for the Humanoïdes Associés in 2002 and published dozens of books as a writer most notably the Elric series, acclaimed by Alan Moore, Neil Gaiman and Michael Moorcock himself as the best adaptation of his work.
Along GODS, Julien is working on the new edition of Vermine, his post-apocalyptic roleplaying game, voted Game of the Year in 2005, and on various comics projects, including the adaptation of the famous Robert E. Howard Conan story: The Hour of the Dragon.
Julien is also a kayak teacher and lives in France, near Paris.